Major Bitcoin Players Unite to Form Trade Group to Promote Crypto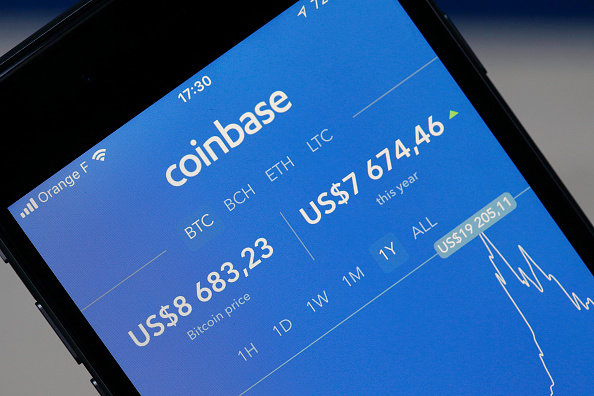 Formation of a new trade group by major proponents of Bitcoin underscores the cryptocurrency's continued movement into the mainstream.
The Crypto Council for Innovation (CCI) said it plans to undertake research projects and lobby lawmakers to promote what it sees as the "transformational technology's promise" and to correct perceived misperceptions.
"Crypto has immense potential to spur international economic growth and create jobs, improve financial inclusion and access, and enhance personal privacy," the group said in its mission statement. "By sharing insights and expertise about the global crypto ecosystem while addressing misperceptions and misinformation, CCI supports governments and institutions worldwide in efforts to share and encourage responsible regulation of crypto in a way that unlocks potential and improves lives."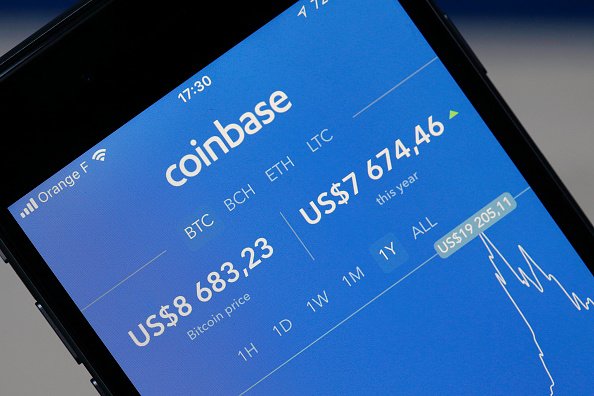 In this photo illustration, Bitcoin course's graph is seen on the Coinbase cryptocurrency exchange application on February 12, 2018 in Paris, France.
Chesnot
Founding members include Coinbase, Fidelity Digital Assets, Paradigm and Square.
Coinbase operates a digital exchange serving about 43 million customers in 100 countries. It was organized in 2012 and plans to launch an IPO later this month.
Fidelity, best known for its mutual funds, has about $10 trillion under management and seeks to launch an Exchange Traded Fund to allow investors track the price of Bitcoin without holding the cryptocurrency.
Paradigm was organized three years ago to invest in cryptocurrencies. Square, a developer of electronic payments, has invested heavily in Bitcoin.
Bitcoin is developing rapidly and some would say in contradictory ways as it moves from the fringes of Geekdom to Wall Street.
Bitcoin proponents say cryptocurrency is in its early stages of development and, like the Internet, has the potential to change things in as yet unforeseen ways due to low cost, unrivaled access and blockchain's unbreakable record of all transactions.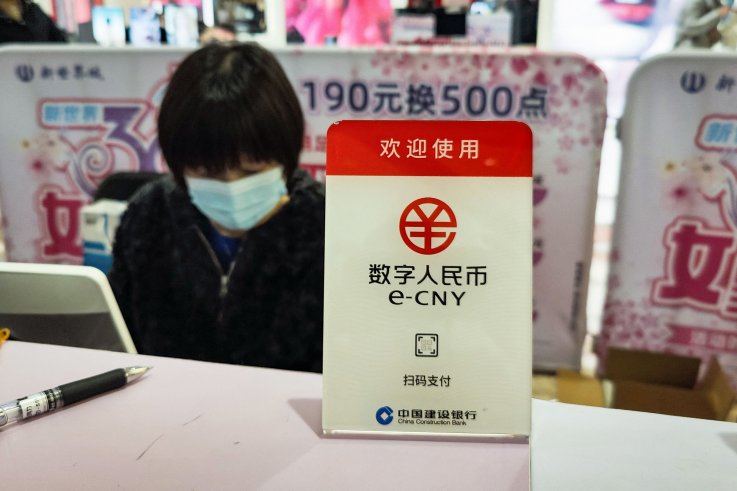 A sign for Chinas new digital currency, electronic Chinese yuan (e-CNY) is displayed at a shopping mall in Shanghai on March 8. The People's Republic is pressing ahead with an ambitious digital currency project that may serve as a conduit for bypassing a U.S.-dominated global banking system.
AFP/Getty Images
Some central banks, including China, are exploring the feasibility of issuing their own digital currencies. It's unclear how such action might shake out, especially if millions stick with a government-issued digital currency and bypass the existing commercial banking system. Government-issued digital currencies also could be used to track an individual's spending.
Despite the challenges, the new trade group is confident about Bitcoin's future.
"CCI exists to demonstrate this transformational technology's promise internationally to policy makers and regulators, and to communicate its benefits to people around the world," the trade group said.
In mid-day trading Tuesday, Bitcoin traded at $58,023.28. It's up 98.94% for the year. The record high is $61,556.59, CoinDesk reported.
Market Pulse
ARK Invest estimates that there's a 50% probability Tesla will deliver a fully self-driving vehicle by 2025, up from its previous estimate of a 30% chance by 2024.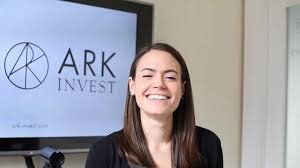 Tasha Keeney, Ark Invest, analyst for autonomous technology and robotics strategy.
ark-invest.com
"Since our last forecast, neural networks have solved many complex problems previously considered unsolvable, increasing the probability that robotaxis are viable," Tasha Keeney, an analyst for ARK's autonomous technology and robotics strategy, said in a research report.
If development is successful, Tesla could grow quickly by allocating additional money to expand its autonomous network. If 60% of Tesla's vehicles equipped with Autopilot operated as robotaxis, ARK estimates that the company could increase revenue by $160 billion by 2025.
That could be a bonanza for stockholders.
The analyst set a 2025 price target, or estimate of fair value for the stock, at $3,000 a share. The bull case pegs the shares at $4,000 each while the bear case is $1,500, New York-based ARK said.
But Craig Irwin, an analyst at Roth Capital in New York, set a price target of $150 for Tesla, or about 78% below Monday's close. He said Tesla is a "minor player" in U.S. and European car sectors, yet its current value is close to the total size of those markets.
In mid-day trading Tuesday, Tesla's shares changed hands at $689.33 each.
Company founder Elon Musk invested $1.5 billion in Bitcoin earlier this year and tweeted about the future of the cryptocurrency.
Daniel Ives, an analyst at Wedbush Securities in Los Angeles, estimates that Musk's Bitcoin investment has returned about $1 billion and is on track to produce more profit for Tesla than it made from selling electric cars in 2020.