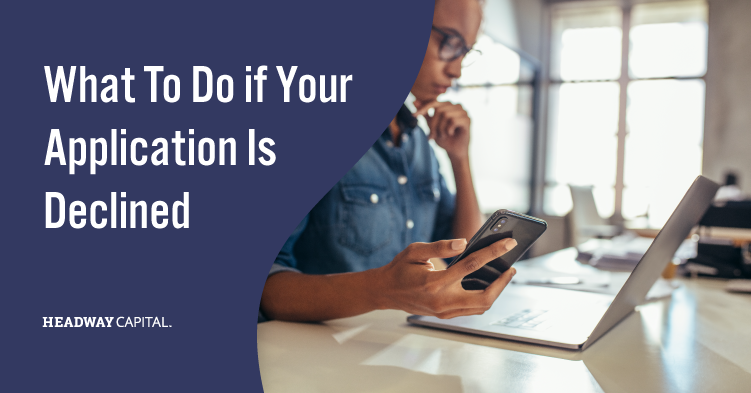 Funding is essential to running a small business. Whether you're just starting out or looking to grow, having the right financing can be the difference between success and failure. Still, it can be hard to obtain funding. According to a 2020 estimate, nearly four out of five small businesses were denied loans from big and small banks.1
Being denied financing is scary — especially if you're trying to keep your doors open during uncertain times. If you've been denied, don't lose hope. There are steps you can take to secure the financing you need.
Determine Why You Weren't Approved
First, figure out why your application was rejected. Knowing what went wrong can help you identify areas for improvement, strengthening your future applications and boosting your chances of approval. Here are a few common reasons applications are denied.
Your Credit Score Is Too Low — A damaged or subprime credit score is one of the main reasons applications are rejected. Lenders use this score to gauge your potential to default. Look at your credit score before applying to ensure you meet the lender's requirements.
Insufficient Cash Flow — If a lender believes you don't have the capacity to repay, it's unlikely they'll approve your application. If you have cash flow limitations due to other debt or low revenue, this may be the reason you were denied.
Lack of Collateral — Some forms of financing require collateral that can be liquidated by the lender to recoup their losses if you fail to repay the debt. Lacking sufficient collateral can mean that you don't meet the necessary requirements.
Risky Industry or Other Conditions — Not all the factors are in your control. If the economic forecast isn't looking good, or your industry has been labeled as risky at the moment, lenders may be stingier with financing.
Not Enough Time in Business — Some lenders require your business to be in operation for a certain amount of time before they let you borrow money. This can vary from six months to two years. If you're starting a new business, this may be the reason you didn't get approved for financing.
Look Into Other Options
After you determine why your application was denied, you can start working to strengthen your business. In the meantime, if you need funding right away, you have other options available.
Different Types of Financing — Just because you were denied one type of financing doesn't mean that you don't qualify for other types. For example, if you're denied a business loan you may qualify for a line of credit — using other forms of credit can also help you build a positive credit history and boost your score.There are also financing options that don't require you to take on debt — a purchase of receivables agreement allows you to access cash now by selling invoices that are due in future.
Alternative Lenders — It's notoriously difficult to secure financing through a traditional bank — not to mention the hassle of their typically lengthy and complicated application processes. If you've been denied by a bank, you can look for financing from alternative sources like online lenders. Online lenders tend to have more lenient requirements, easier application processes and fast funding.
Improve Your Credit Score and Boost Your Cash Flow 
If you want to ensure that you're able to secure financing for future growth, you may want to improve your credit score and boost your cash flow. This can help strengthen your business and make you a more appealing financial investment to lenders.
Credit Score — Building good business credit doesn't need to be difficult. Opening a business credit card or establishing tradelines with your vendors is a good way to establish a credit history. Just make sure you're making your payments on time and that all your information is up to date with the credit bureaus.
Cash Flow — Boosting your cash flow can put you on more solid financial footing. Start by finding ways to cut expenses like leasing instead of buying equipment. Then you can look for creative ways to incentivize your clients to pay early — maybe with early-payment discounts, or you could organize a sale. However you decide to improve your cash flow, make sure you monitor it so you can create an accurate cash flow forecast.
Sources:
1Ward, S. (2020) Challenges of Getting a Small Business Loan.