Sign up for dot.LA's daily newsletter for the latest news on Southern California's tech, startup and venture capital scene.
It's 2 a.m. during a night out; you're hungry, but all kitchens are closed and the food options are limited.
Piestro believes it has a solution. The El Segundo-based startup is developing a fully robotic vending machine for pizzas.
---
"You generally don't get really good or fresh foods [late at night]," Piestro founder and CEO Massimo De Marco said. "But being able to bring in something nice, fresh, hot and I want to say healthy—that was really the main factor we're wanting to bring to the masses 24/7."
Before founding Piestro in 2020, Italy native De Marco helped launch Pasadena-based food delivery platform Kitchen United and had hospitality industry stints working for restaurateur Wolfgang Puck and the Hillcrest Country Club in Beverly Hills. To make his dream of an automated pizza machine a reality, De Marco has the help of a team of engineers with experience from the likes of Walt Disney Imagineering, NASA's Jet Propulsion Laboratory, Boston Dynamics and Virgin Hyperloop.
(Though he works remotely, De Marco said he spends at least one day a week in Piestro's El Segundo facility overseeing the team and taste-testing the pizza. When asked about his daily slice count, he admitted: "I don't count because I'm embarrassed!")
Standing six feet tall and nine feet wide, Piestro's machine is built with a glass window allowing customers to watch the process unfold inside. It's similar to chains like Blaze Pizza or Pieology, where the pizza is made by workers in an assembly line—except Piestro's machine requires no workers to produce a pie in a matter of minutes.
"We wanted to make that experience more interactive and show you that this is fresh stuff," said Piestro engineer Darian Ahler—who also runs his own food automation startup, Bobacino. "You're not getting some frozen pizza sitting there; you're able to see your pizza constructed right in front of you, and that's super exciting and gets people more engaged with the brand."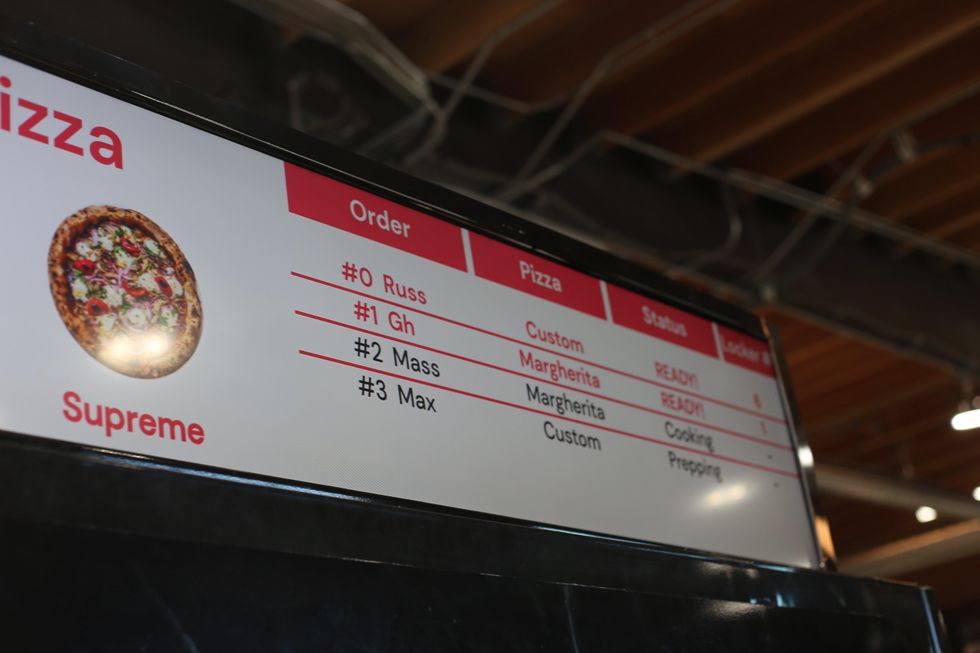 Piestro customers are updated on the status of their pizza via a screen.Photo by Decerry Donato
Piestro lets customers order through a touchscreen that lets them choose the toppings for their pizza. (The machine can hold six to eight different toppings at a time.) Once they pay, the customer's name pops up on a screen indicating when the pie will be ready. The entire process usually takes anywhere from five to eight minutes, though Piestro wants to bring that down to four minutes.
De Marco said the company has already received more than 4,000 pre-orders for its automated pizza machine, with woodfired pizza chain 800 Degrees among its clientele. (De Marco declined to disclose the price Piestro is charging per machine.) Piestro believes its product is ideal for hospitals, airports, schools and apartment complexes that could use access to prepared food at all hours of the day.
The startup isn't the only automated pizza game in town; there's also Stellar Pizza, a Hawthorne-based robotic food truck founded by former SpaceX engineers. While Stellar's model offers mobility, Piestro's "hub-and-spoke model" has its own advantages, Ahler said.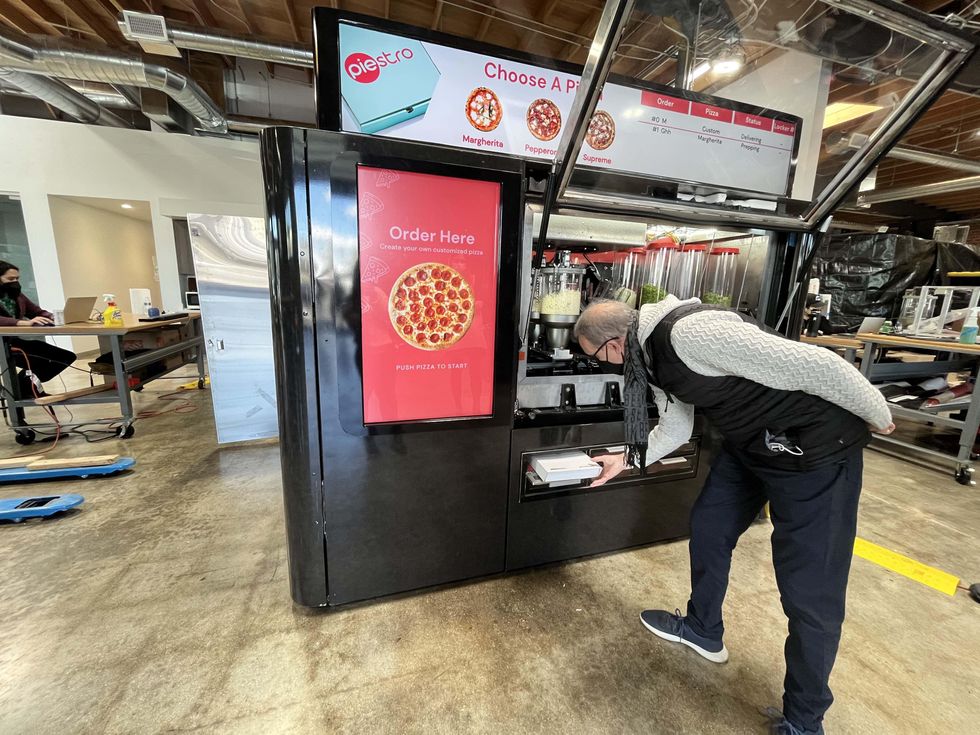 After a pizza is ready to be picked up, the Piestro machine stores it in a compartment where it is kept warm. Photo by Decerry Donato
Though Santa Monica-based food-tech incubator Wavemaker Labs is Piestro's lead investor, the company proudly boasts of the thousands of investors it has amassed through two separate equity crowdfunding campaigns. Piestro has raised more than $6 million in funding with the help of those campaigns, and is currently seeking to raise another $20 million to help scale its business.
De Marco noted that the startup's crowdfunding investors include former food industry colleagues of his, from waiters to bartenders, who "totally understand this industry" and the value of the automation Piestro is looking to achieve.
"A busboy that worked with me 15 years ago told me he invested $1,000," according to De Marco. "They want to get involved and feel like they're part of this new robotic revolution."
From Your Site Articles
Related Articles Around the Web