Japan receives first of three Global Hawk surveillance drones at Misawa Air Base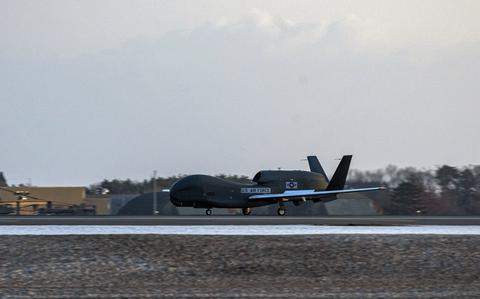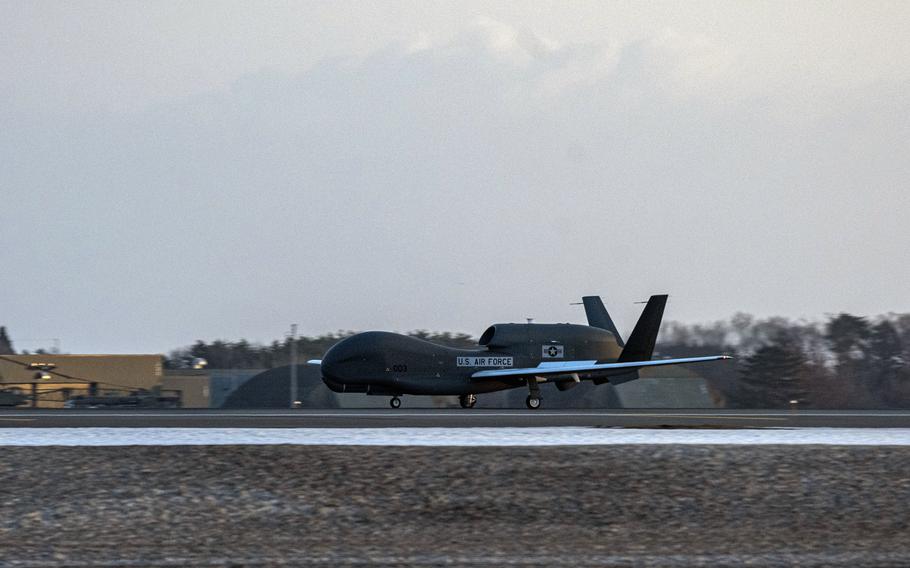 An RQ-4B Global Hawk surveillance drone that landed Saturday at Misawa Air Base in northeast Japan is the first of three that will be operated by the Japan Air Self-Defense Force, according to the unmanned aircraft's manufacturer.
Photographs of the Global Hawk's arrival were posted Monday on Misawa's official Facebook page.
"Congratulations to our JASDF counterparts on their newest capability! The addition of the RQ-4B Global Hawk to the Japan Air Self-Defense Force's inventory directly supports the defense of Japan, and peace and stability in the Indo-Pacific region," said a message accompanying the images.
The Global Hawk flies at 60,000 feet and has a line of sight to targets more than 340 miles away, according to manufacturer Northrop Grumman.
The exact range of the aircraft's cameras and sensors is classified, but a Global Hawk flying near the Korean Demilitarized Zone, for example, could see well beyond the Yalu River that marks North Korea's border with China.
Japan's three Global Hawks cost nearly $500 million combined, with deliveries slated to wrap up this year, Forbes reported April 15, 2020.
The new Global Hawks will "conduct information gathering in areas relatively remote from Japan, as well as persistent airborne monitoring during situations with heightened tensions," Japan's Ministry of Defense said in a statement after the drone landed.
The first of Japan's three Global Hawks left Palmdale, Calif., on Thursday and landed at Misawa nearly 19 hours later, Northrop Grumman said in another statement Monday.
"The arrival of the first Japan Global Hawk is an important milestone in the development of this critical security asset," Jane Bishop, vice president and general manager for global surveillance at Northrop Grumman, said in her company's statement. "The autonomous Global Hawk will provide the Japan Air Self-Defense Force with persistent, high-altitude surveillance of the Indo-Pacific."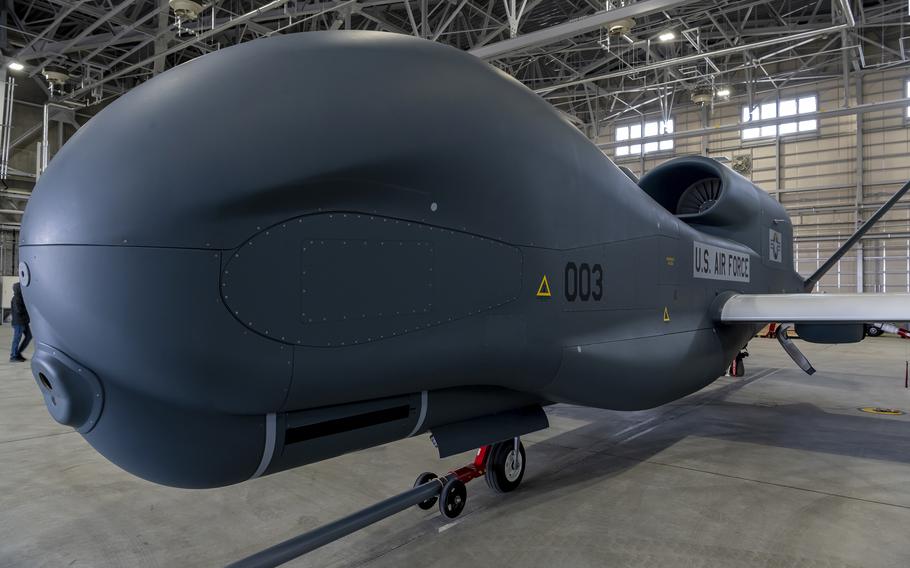 The U.S. Air Force has positioned its Global Hawks at Misawa for several summers since 2014. The drones come to Japan to avoid typhoons at Andersen Air Force Base, Guam. In recent years, including 2020, they have operated out of Yokota Air Base in western Tokyo during the summer.
South Korea has four Global Hawks that are believed to be flown out of Sacheon Air Base, near the port of Busan, according to an October report by Jane's Defence Weekly.
The Royal Australian Air Force will acquire seven RQ-4C Tritons, the maritime version of the drone, and will fly them from RAAF Base Edinburgh, according to the service's official website.
Guam-based Air Force Tritons completed a maiden deployment to Misawa in October.
The U.S-Japan defense treaty allows America to share defense technologies such as the Global Hawk, F-35A Lightning II stealth fighter and E-2D Hawkeye early warning aircraft, Lt. Col. Cody Chiles, a spokesman for the Misawa-based 35th Fighter Wing, said in an email Saturday.
The Japan Air Self-Defense Force has positioned these aircraft at Misawa, Chiles told Stars and Stripes by phone March 9. The Air Force shares the base with the 3rd Air Wing of the Self-Defense Force.
"The acquisition of these platforms, and subsequent operations by our allies, sends a strong signal to regional adversaries that the United States and our allies are equipped and ready to detect and defend our nations from regional threats," he said.